Los Picos de Europa, Spain
I knew before I arrived that Los Picos National Park would be spectacular. But even this mountain-scenery snob was humbled by what I saw at Los Picos National Park.
Los Picos de Europa is a national park shared by provinces of Asturias, León and Cantabria in Northern Spain. It is characterized by deep valleys, massive limestone cliffs, and alpine lakes. It's not the image one would think of when they think of Spain, but it's probably the reason why I loved this park so much. Its beauty was unexpected. I spent a few days hiking the trails as much as I could.
Of all the hikes I did there, the Cares Gorge trail (locally known as Garganta del Cares) was my favorite. It has beautiful scenery and it's actually very flat – everyone and their cousins and grandmas can do it. Many people consider Cares Gorge to be one of the best hikes in Northern Spain. I can concur.
Hiking Gargante del Cares (the Cares Gorge) in Los Picos National Park
The 7 mile hike through Cares Gorge is the one of the most popular hikes in Los Picos. I can see why: it's relatively short (3 hours one way), relatively flat, and totally accessible even without a private transport.
The trail through the Cares Gorge connects 2 villages, Poncebos at one end and Cain at the other. At either of these villages, you can easily stock up on water and snack. Not feeling like retracing your step back? There's a shuttle system that can bring you back to your starting point. Arranging the connection can be a little tricky and you might have to wait a bit (especially if you start hiking early like I did), but it can be done.
And of course, there's the scenery. There's a reason that the Cares Gorge hike is considered one of the most beautiful hikes in Northern Spain if not in all Western Europe.
The narrow trail is cut on the limestone cliffside – an engineering marvel in by itself. In the picture below you can see the trail going into the distance.
I started hiking very early at 8 am from Poncebos. Despite it being the holiday month, for 2 blissful, unbelievable hours, I had the trail all for myself. The only other living things I came across was a couple of goats – the tolling of the bells they wear around their necks echoing off the gorge walls.
It was an incredible feeling to have such a scenery all for myself. This was the first time I've ever gone hiking by myself and I found the solitude unnerving at first, and comforting at the end.
The overcast day wasn't enough to hide the splendor of the gorge. As of matter of fact, it turned out to be a blessing in disguise – since there wasn't a speck of shade on the trail hiking Cares Gorge in the middle of sunny summer day would've been a much more taxing experience.
As it was, it was a leisurely, relaxing walk with one spectacular scenery after another. My only tip is to not to forget to look back every now and then.
After an hour of steady uphill, the trail flattens and from then on it was an easy 2-hour stroll to Cain, the village on the other side.
My original plan was to hike back since I knew that the Cares Gorge would present itself in a different way. But as I was taking a break in Cain, vans after vans of day hikers arrived. After having the trail for myself, I hated the idea of sharing the trail with crowd (greedy, I know), so I decided to take the shuttle back. But not before going on a short trail that brought me to a viewpoint high above Cain.
If you're an avid hiker, put Los Picos on your list NOW!
I've been back for about a week and I still can't stop blabbing about Los Picos National Park and the Cares Gorge. It's surprising how little known this national park is in the States, even among my hiker friends.
Even if you're only remotely into hiking, the Cares Gorge (and Los Picos) is truly spectacular and is worth a trip if you ever find yourself in Northern Spain (another reason to visit the Basque Country? The food!).
If you consider yourself an avid hiker – put Los Picos on your list right now! I guarantee it'll be up there among your favorite hikes you've done.
I wrote about other beautiful hikes in Los Picos here and about my time in Bilbao stuffing some of the most delicious food in my life here.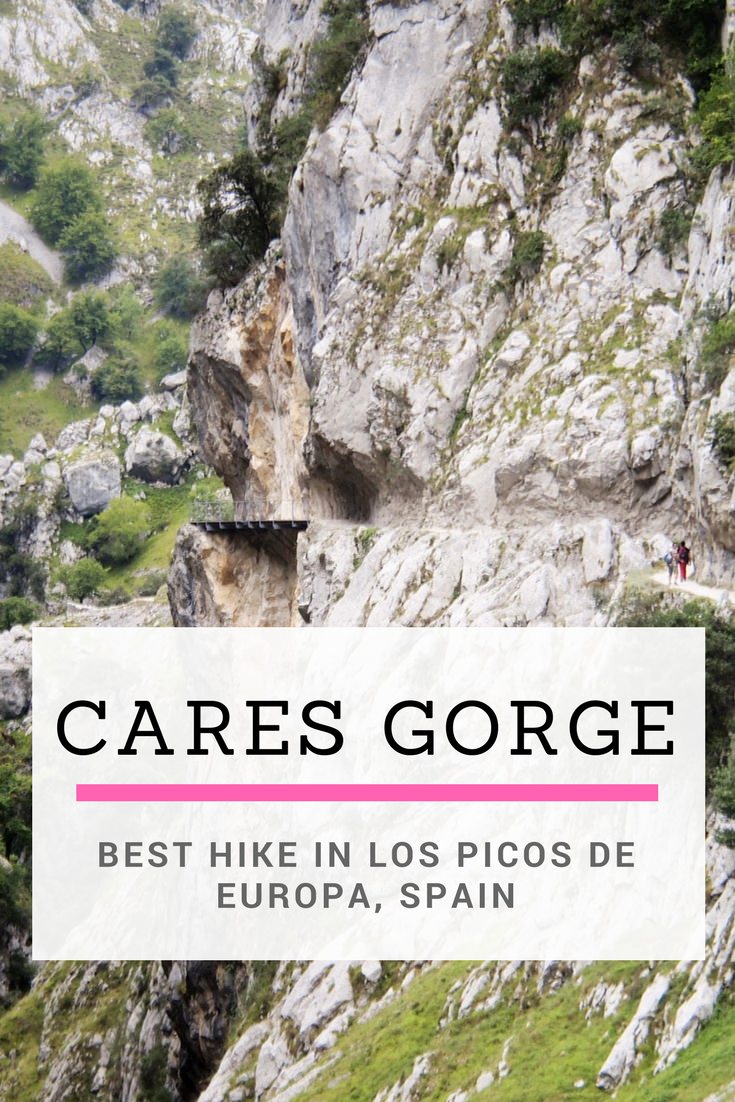 Hiking the Cares Gorge
Public buses serve the area around Los Picos National Park in the summer, but they're not as frequent as one might think so double check the schedule.
Length of trail:
15km (3.5 hours) one way.
Where to stay:
I stayed in Hostal Poncebos, an awesome hostal with friendly owners about 20 minute walk from the trailhead. Highly recommended.
Shuttle bus from Cain:
From Cain, there's one shuttle bus that will take you back to Arenas de Cabrales in the afternoon. You can then take another shuttle bus or taxi back to Poncebos. Leave early enough from Poncebos and you'll be able to make it with time to spare to do some additional hikes around Cain.
Tips on hiking the Cares Gorge:
Bring plenty of water in the summer. There's very little shade.
There are restaurants/cafes at both ends of the trail, so no need to pack a lot of food.
I'd rate the hike to be easy-intermediate in difficulty. The trail has loose stones in some parts and gets quite narrow in the other, but it's very well established, not very steep even at its steepest part, and you have little chance of getting lost.
How to get to Poncebos from Bilbao
Los Picos National Park is a pain to get to by public transport from Bilbao. It took me a whole day to do – 3 bus transfers and a taxi ride – to get to Poncebos from Bilbao, a 2.5 hour drive by car. I went to Alsa bus counter in Bilbao and asked for help and this is the route I took:
Bilbao – Ovideo – Canga de Onis – Arenas de Cabrales then taxi (6 Euros) to Poncebos