Bulnes and Covadonga Lakes, Northern Spain
My hike through Cares Gorge yesterday left me seriously smitten and wanting to do more hikes in Los Picos National Park. This time I'm looking for something shorter and more accessible. After asking around, I learned that Bulnes village and Covadonga Lakes are considered to be some of the most beautiful short hikes in Picos de Europa so I decided to check them out.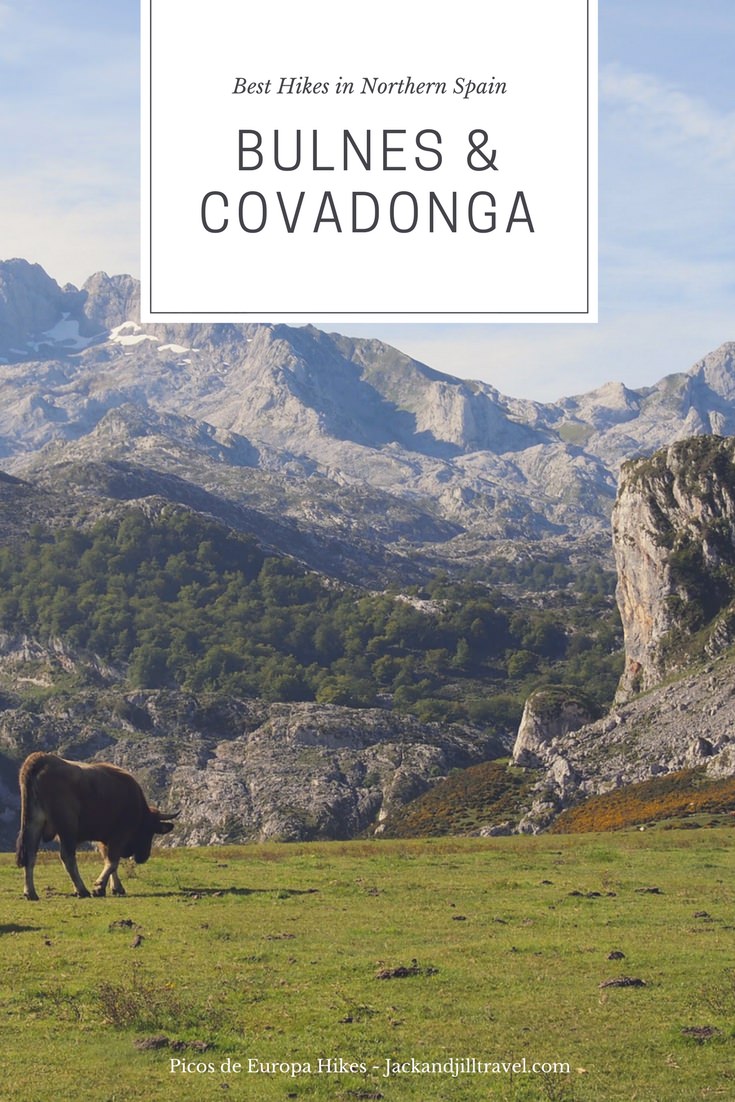 Bulnes Village
On my way to Cares Gorge trailhead on the previous day, I saw a trail snaking off into a distance, making its way between 2 mountain peaks before turning a corner and disappears. It called for some exploration and I marked it as my next destination.
Again I started early in the morning, leaving my hostal in Poncebos at 8 am. But since it was the weekend I met a few folks on the trail and didn't get the solitude I found yesterday in Cares. Don't get me wrong, it was still a very pleasant hike despite the crowd.
The view just kept on getting better and better as the trail switchback and winds its way alongside the mountain.
On the last switchback I finally caught a glimpse of my destination, a remote village called Bulnes. I couldn't help but gasp.
In my book Bulnes could've won the most picturesque village of the year, every year. First, its location high on the hillside in a green valley, surrounded by limestone peaks is simply jaw-dropping. There's so much rock like you wouldn't believe.
It just couldn't get any more picturesque.
The village (actually 2 villages: Upper and Lower Bulnes) consists of small, grey stone buildings, and car-free alleys. That's right, the village is so remote is has no cars.
The buildings located on on the side of a small creek running through the village have been converted to restaurants and cafes to accommodate visitors and hikers.
Back in 2001, a tunnel was built into one of the mountains surrounding Bulnes Village and a funicular now provides an easy access from Poncebos to the village, much to the disappointment of environmentalists and a great cheer from the its 50 or so local residents.
I guess hiking an hour each way to the nearest civilization gets old after awhile, however inspiring the scenery is.
Covadonga Lakes
Another popular hike in Los Picos is around the 2 glacial lakes in Covadonga: Lago Enol and Lago Encina.
During the high season, the road to the Covadonga is closed to private cars and the only way to get to this part of the national park is by taking park shuttles.
On my way up, my seat mate turned out to be an English speaking Taiwanese who lives in Madrid. It was the first time I met an English speaker since I arrived in Spain and we passed the time chatting amiably.
MORE: Lonely Adventure Through Armenia
The scenery as we climbed up the pass was again, incredible. Limestone formations dotted the landscape, surrounded by green pasture and small yellow flowers. Many times the bus had to stop to wait for herds of cows or sheep or goats to cross the road.
Occasionally simple stone structures can be spotted, usually tucked next to or in between these limestone formations. I assume this is where the owners of the grazing animals live.
There are 2 variations of hikes around the Covadonga lakes. You can opt for a short but sweet hike, or a longer one that takes you behind a mountain and along the shorelines of both lakes. Both are straightforward hikes on marked trails. I recommend the latter since you get a glimpse how life is like for the residents here.
Between the tolling of the cowbells, the lakes, and the peaks, it almost felt like I was in Switzerland instead.
It took me roughly 2 hours to complete the longer hike. By the time I got back to the visitor center, the day was getting uncomfortably warm. Not to mention the increasing crowd.
I gladly jumped back on the shuttle to take me back to my hostal.
My Airbnb host in Santiago later told me that she spent a month backpacking and hiking in Los Picos, and I could totally see why one would do this. Between these hikes and the Cares Gorge, I'm convinced that Los Picos is something that any self-professed outdoor lovers should not miss when in Spain.
I wish I could stay longer but I had other commitment – aka, my flight back to Iceland.
So with a promise to return, I pushed onward to Santiago de Compostela.