On my first visit to Joshua Tree National Park many years ago, I was blown away by what I saw.
As someone who'd never seen a desert before, I might as well had landed on the moon. It was an alien landscape that at first glance was so forbidding and desolate.
The landscape here is dominated by hills made of huge, loose boulders. Some the size of small building. The flatland between these piles of boulders is sparsely covered by Joshua Trees. The gnarly branches, spiky leaves, and hairy trunks of these trees add to the other-worldliness of the landscape.
It's not the typical landscape that comes to mind when you think of deserts.
If you're a climber, you've probably heard of Joshua Tree. The huge boulders are covered in cracks, scoops, and chimneys that would make any crack climbers salivate. There are more than enough routes here for a lifetime of climbing.
The mostly short approach (you can literally belay from your tent on some of the routes), the number of routes (8000 routes and growing!), and the quality of the rock makes this national park a world class climbing destination.
Stay in Hidden Valley Campground, the center of climber activity, and you'll quickly see for yourself.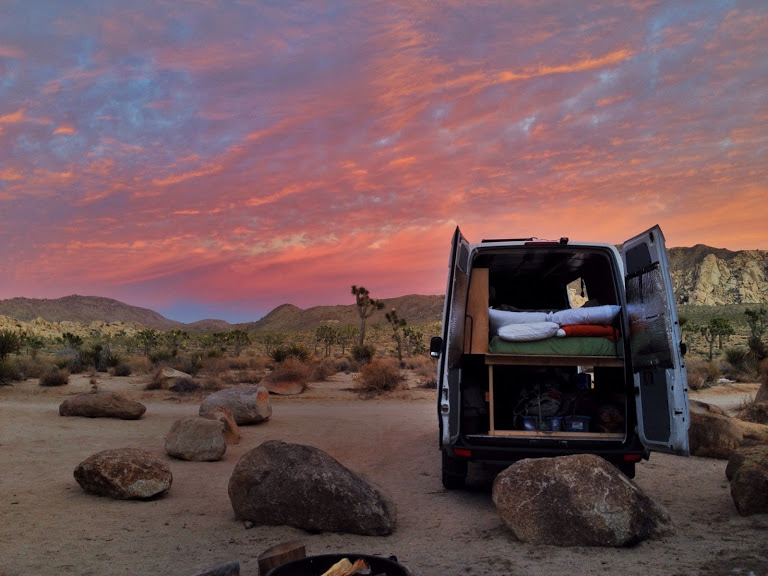 For the van's maiden voyage (READ: The Why, The What, and Other Questions on Van Life), we decided on Joshua Tree for a very simple reason: it's one of the few winter climbing spots in California. It's a furnace for most of the year and therefore is only climbable during colder months of the year.
We drove out on Christmas morning from the Bay Area and planned to celebrate New Year with some climbing friends. Just as luck would have it, a snowstorm was forecasted. Everyone bailed.
Bummer.
We spent New Year's Eve huddled inside our Sprinter, watching white flurries flying all around us as the wind rocked our van back and forth. We woke up to a new year in a snow covered desert under blue sky.
It was gorgeous. I couldn't think of a better way to welcome 2015.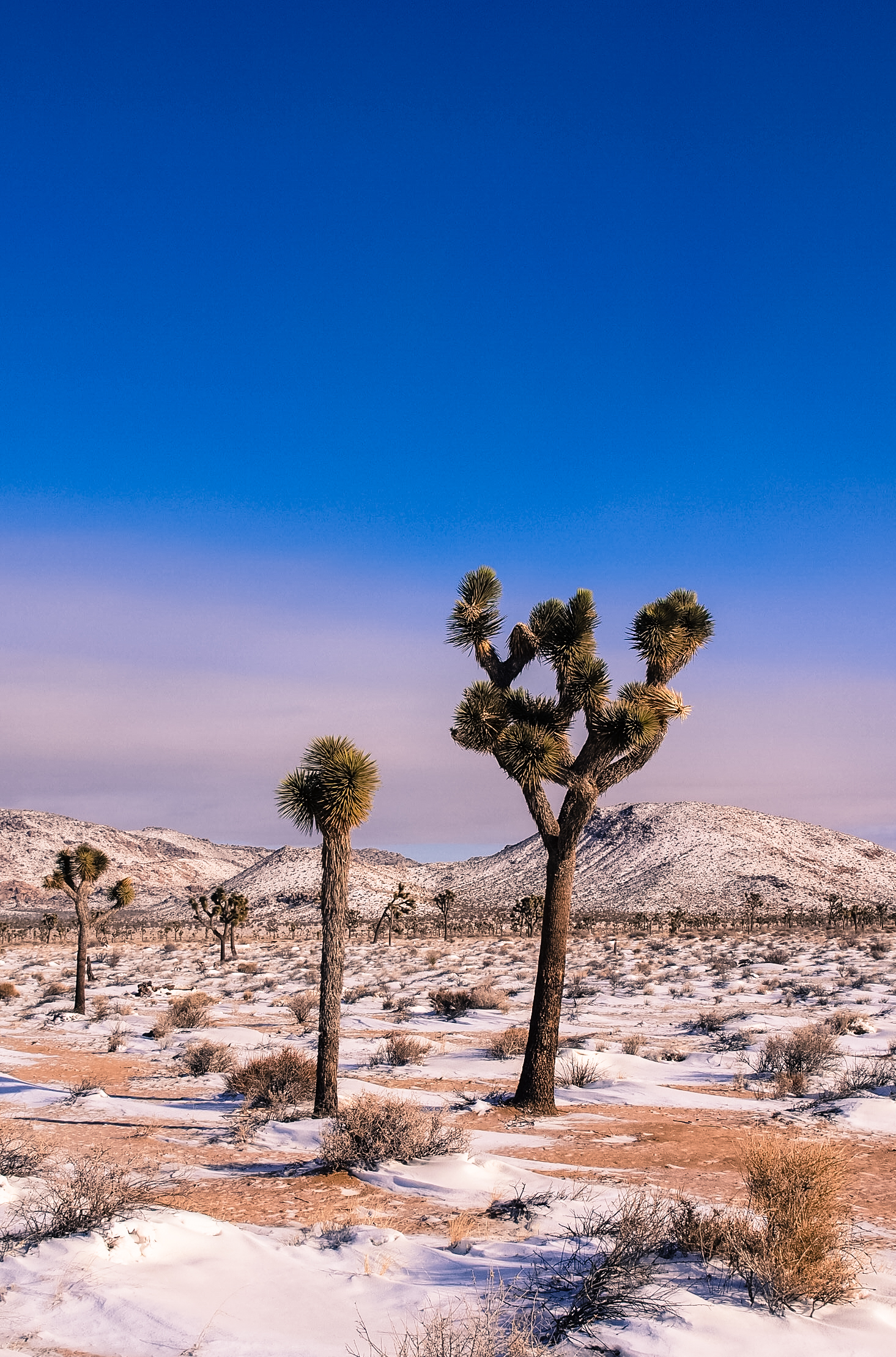 This was when I realised the awesomeness of this new lifestyle we have. Poor in possessions we're nevertheless rich in time. When shitty weather strikes, we have the time to wait out. Still though, we were itching to climb so it was good that the snow didn't last long. The next day most of the rocks were already dry enough to climb.
On our first climbing trip to JTree a few years back we were just getting into rock climbing outdoors. We couldn't lead anything. We were mystified by the nature of crack climbing – how do you climb a crack in a rock? And just a little horrified – "What do you mean, stick your foot and twist really hard?"
Thankfully we've gotten a little better since that time. Yay for personal progress!
We spent the next 2 weeks cruising up all of the moderate classics in Joshua Tree: Double Cross, Sail Away, Dappled Mare and more. Jack managed to grunt his way up Bat Crack, an off-width that I found incredibly hard despite its 5.5 rating.
I was looking forward to our first sunset on this trip. I remember the vivid sunsets and the stars many years ago that made Joshua Tree one of our favorite National Parks.
Like many memories, they get better with age and now that I've been to more places and seen beautiful parts of the world I was wondering if Joshua Tree would still amaze me. I wasn't disappointed. Not at all.
—
Hope you enjoyed the post and pictures. Follow our van life adventures across North America on Facebook.
Joshua Tree
How to enjoy epic sunsets in Joshua Tree:
Find a rock called "Cyclop Rock" near Hidden Valley campground. Unseen from the road, there's an approach on the other side where you can easily scramble up to its flat top. It's one of the best spots to see sunset in Joshua Tree and watch climbers finishing up their climbs.