Rabat, Morocco
When I think of Morocco, I used to think of the madness and chaous of the souks of Marrakesh and the hassling touts in Fez.

Well, Rabat is nothing like that. We surely didn't expect to walk out of the train station to find wide boulevards with palm trees, lined with imposing white buildings. Smartly dressed diplomats (it is Morocco's capital after all) in suites mingle with traditionally clothed men and women on the wide sidewalks.
Rabat's old town (medina), just a couple of blocks away, provides a nice contrast to the city center. As we passed the wall the separates the old town with the new, a distinct increase in chaos was noticeable. Here the stores are closer together and the alleys are narrower. People yell more and louder here too. No one was hassling us or paying us much attention.
There were stores selling anything and everything from clothes, to leather accessories, to household goods, and dates. Tons of dates! And all this time I thought there was only one type.
The nice thing about Rabat's medina? Its relatively small size means you can't get completely lost here (after half a day meandering around, I asked for direction only to find that I was a block away from our hotel).
We quickly learned that the doors and doorways of Moroccan houses are very photogenic.

At night, the streets of the medina come alive. This is when the snail vendors come out (selling boiled snails – eeew), the street sellers display their wares in the middle of already narrow alleys, and half of the town's population (or so it seems like) come in droves to meet friends, shop, and drink tea in cafes that lined the alleys.
On the other side of the entrance to the Old Town of the medina is the Kasbah of the Udayas. Kasbahs are forts or citadels commonly built on top of a hill as part of its defense.
The Kasbah of the Udayas in Rabat has been gentrified, the houses inside bought as vacation homes by the rich. To wander around the blue and white painted dwellings inside this old fortress is a quiet affair.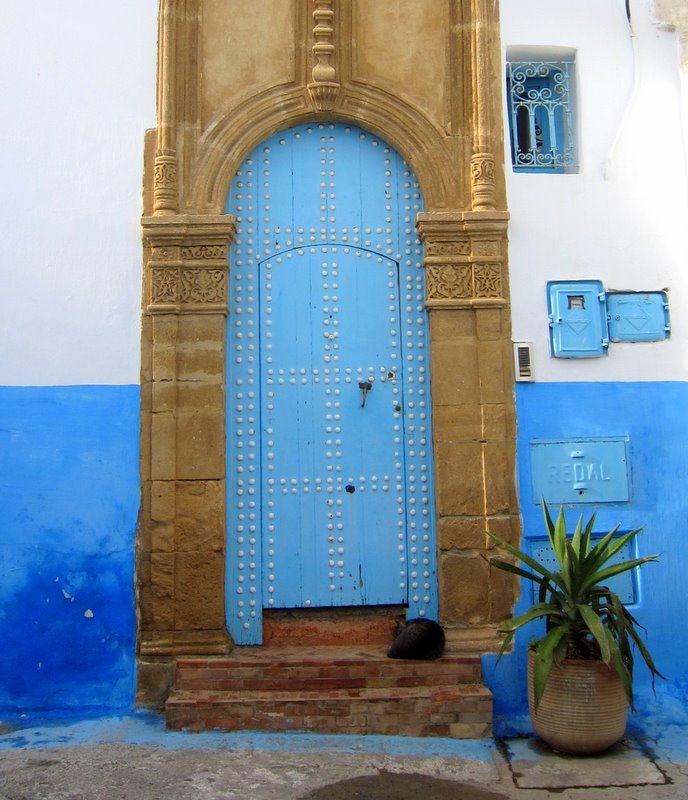 The view from the outer ramparts of the ocean below is particularly beautiful!

But the highlight of Rabat is Chellah – a mysterious Roman ruins that has been converted into a garden. But that's for next time.
Rabat is not a picture of what I imagined Morocco to be. But as a place to rest up after a long flight and recover from a jet leg, it's a very good thing it's not. We were recommended to stay here even though we flew into Casablanca and we're glad we did.
I'd like to think of Rabat as Morocco 101 – a laid back welcome to the rest of Morocco – and Africa.