Kakheti, Georgia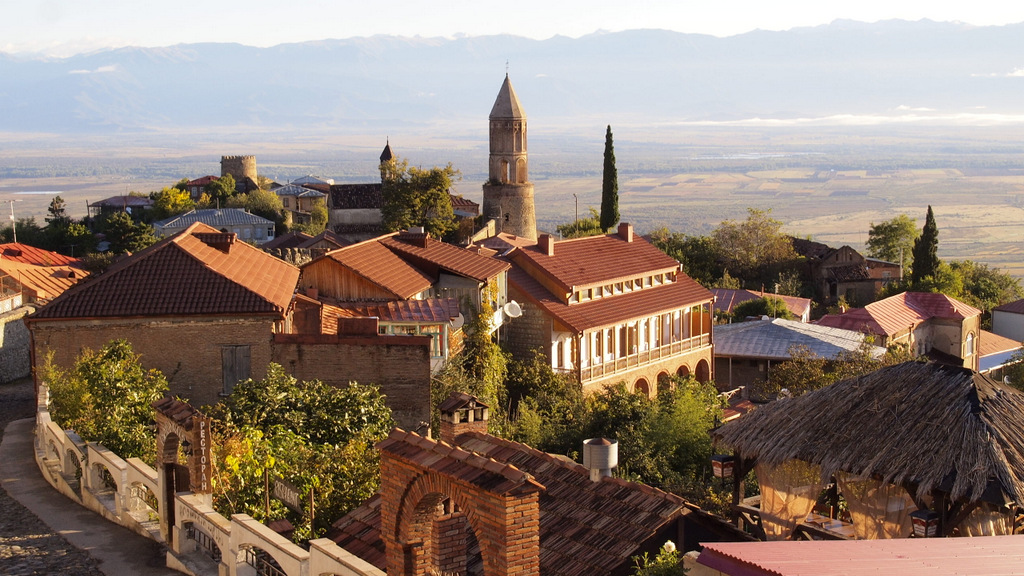 I have to admit that living 1 hour away from Napa and Sonoma Valley, a world reknown wine country, visiting Georgia's wine country didn't excite me. I mean, who have ever heard of Kakheti, right? And how can it compare to Napa and Sonoma?
But went I did because… well, because it was there, I guess.
And this is what learned:
Kakheti is the oldest wine producing region of the world. Wine has been made here for so long that it becomes part of a big part of the country's identity. The whole region seems to be overflowing with wine and vodka. As you walk around the beautiful streets of Signaghi, you could see people walk around with a permanent alcohol induced haze.
Where there's wine, there's vodka. Wine and vodka are closely related because Georgian vodka (chacha) is made from fermenting the leftover from wine making process: the stems, the skins of the grapes that wasn't turned into liquid was scooped up and distilled even further. What comes out is a clear, potent liquid that's drunk in copious amount by Georgians.
Georgian homemade wine is still done in a traditional way: in a kvevri, a giant clay jar buried underground. A good quality kvevri can be used to make wine for a hundred years or more.
Amber colored wine is the norm for white wine since they don't peel the skins off the grapes.
No fancy wine glasses here. The traditional way of drinking wine in Georgia is from a shallow, clay bowl.
I had my first taste of semi-sweet red wine. It was… interesting. Kindzmarauli Winery is one of biggest wineries in the region and they're famous for their semi-sweet wine. It was delicious but so sweet I could only drink a sip or two. It was like syrup!
The best guesthouse in Kakheti is Nato and Lado guesthouse in Signaghi. Every night the guests and the owners gathered around a long table laden with plates of homemade food for a supra, a feast. Naturally it's accompanied by pitchers of homemade wine and vodka.
One night Nato's 2 young daughters played ukulele and sang songs during our supra. Super adorable.
Georgians love to toast. They toast for health, for family, for old friends, for new friends, for health, for good harvests, you get the gist… Everytime a tamada, or toastmaster, proposes a toast, everybody must drink to that as per tradition. A fun tradition, but I'm not sure my liver agreed.
Fresh is best – I still have dreams about the bread we'd had for breakfast here in Signaghi. The bakery is right across the street from the guesthouse. A man would stop by in the morning selling fresh cream from his pasture. That breakfast of fresh bread, fresh cream, and homemade jam was divine.
MORE: Guide to Georgian Foods
Some people came to Kakheti as a day trip from Tbilisi, I highly recommend staying a few days.
See, coming to Kakheti wasn't so much about wine. It's about seeing how life still revolves around grapes in the world's oldest wine growing region. It's about the experience of making new friends around a table laden with fresh food, drinking homemade wine and vodka amid endless (truly) enthusiastic toasts.
Signaghi Info
Kakheti is the wine region in eastern Georgia. 2 major cities are Telavi and Signaghi – with the latter being the smaller and more scenic city.
Where to stay in Signaghi
Nato and Lado Guesthouse – $9 for a dorm
$5.5 dinner
$3 breakfast
Where to eat in Signaghi
Nikala restaurant for delicious authentic Georgian food. Try the Lobio or the Badrijani
How to get from Tbilisi to Signaghi
Marshrutska and taxi: $5.50