Georgia
To me, Georgian monasteries is as much of an icon of the country as the mighty Caucasus. After seeing so many monasteries (too many) in Georgia I've come to the conclusion that Georgians sure know the real values of real estate: location, location, location.
Here are my favorite 5 monasteries in Georgia. The one thing these monasteries have in common is their gorgeous locations that make them worth the effort to get there.
Tsminda Sameba in Kazbegi
Tsminda Sameba (also known as Gergeti Trinity Church) is my favorite monastery in Georgia by far. I think this is a fave because it took me three tries to see the darn thing with the weather being so fickle during my time in Georgia. This is what I saw the first 2 times.
Until finally – 20 hours before my flight back to Istanbul I made the drive up Georgia Military Highway again as a last ditch attempt to see Tsminda Sameba and voila!
There it was in all, perched high above the town of Kazbegi with snow-capped mountains on the background. That third time was truly the charm.
Sapara Monastery
This little visited monastery is located about 30 minute bone-jarring drive from Akhaltsikhe, a town near the Turkish border. Built on a sloping hillside overlooking a forested valley Sapara Monastery is quite a spectacular sight, especially when the fall colors is at its peak. Tip: combine the visit here with a trip to Vardzia (see below).
MORE: Weird Akhaltsikhe
Jvari Monastery in Mtskheta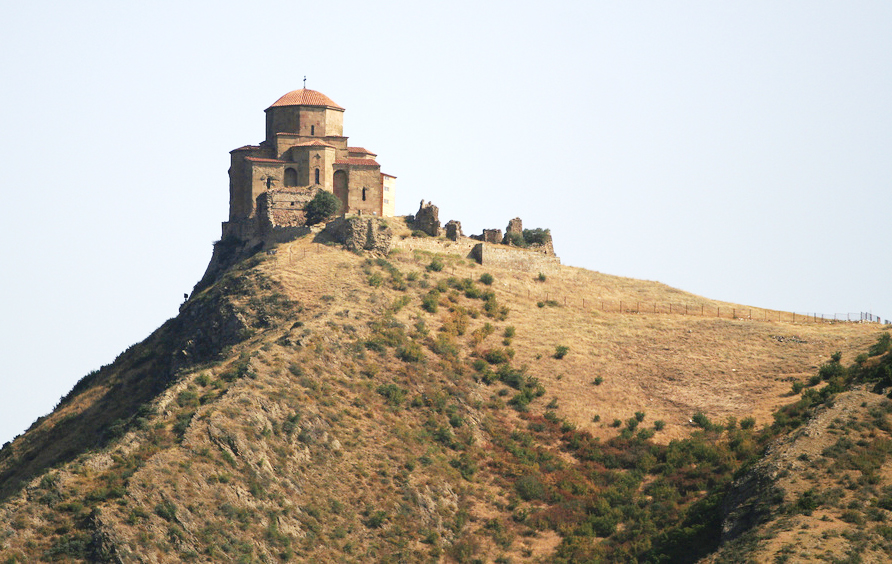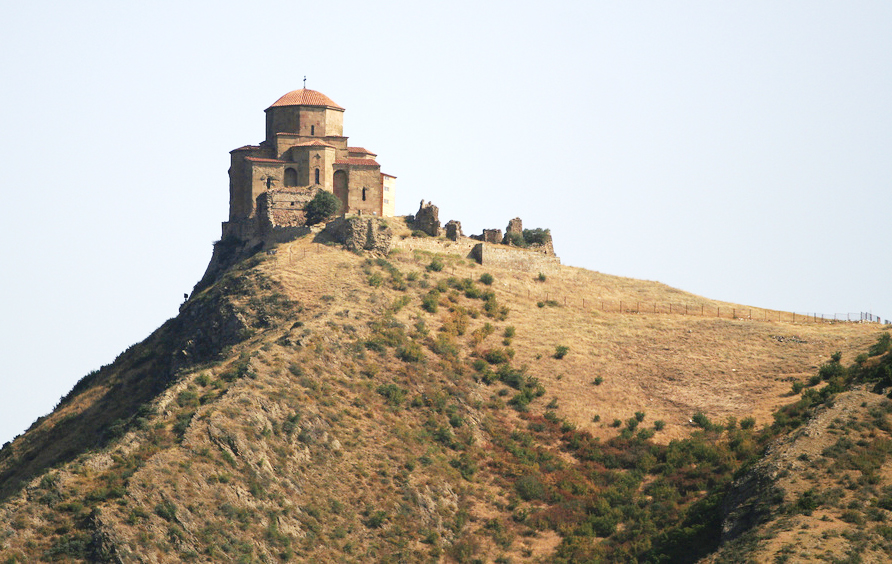 An easy 20 minute drive from Tbilisi, this monastery is located on top of a small hill overlooking the confluence of 2 rivers that hug Georgia's old capital city: Mtshketa (I don't know how to pronounce it either). There's so much history around this area considering that Mtshketa is one of the oldest continually inhabited cities in the world.
Vardzia Monastery in Akhaltsikhe
I saw a lot of cave cities during my time in Turkey, Georgia and Armenia. Like a lot. Like "I've seen enough I think I'm good on cave cities for awhile" lot. But Vardzia tops the cake. It's the whole package: the beautiful drive (tip: come here in the morning when the light hits the hillside just right), the size of it all (6000 rooms!), and the freedom to explore.
MORE: A Cave City in Pictures
A small section of this ancient city is still a functioning monastery with Church of the Dormition being the spiritual center of the site.
David Gareja
David Gareji is arguably one of the most famous cave monastery sites in Georgia. In all honesty, it didn't impress me much but it made it to this list because of its location. So arid, so dry, and so desolate.
Located practically half in Azerbaijan I had the novelty of being able to step over the low railing that made me, officially, a trespasser. Look, I'm in Azerbaijan without a visa!
In all seriousness though, the military presence in the area was a reminder that border dispute between Georgia and Azerbaijan is ongoing and real.
Tip: David Gareja can be visited as a daytrip from Tbilisi, but if you're going to Kakheti (Georgia's wine region) it's an easier/shorter daytrip to make.
—
Random thoughts
Considering the isolation that seems to be a common theme of these monasteries, I realised that I can never, ever become a monk. I'd go stir crazy. Yes the view is beautiful but it's so far from anything and everything. I guess that's the whole point of being a monk, I guess.