Salento, Colombia
We stayed in Salento for 10 days, much longer than any other place we went to in Colombia. Salento didn't really have a cute plaza where you can hang out (unlike Jardín), nor did it have the prettiest houses (that's Guatapé).
But we ended up staying much longer than we expected for a slew of other reasons. Reasons such as:
Valle de Cocora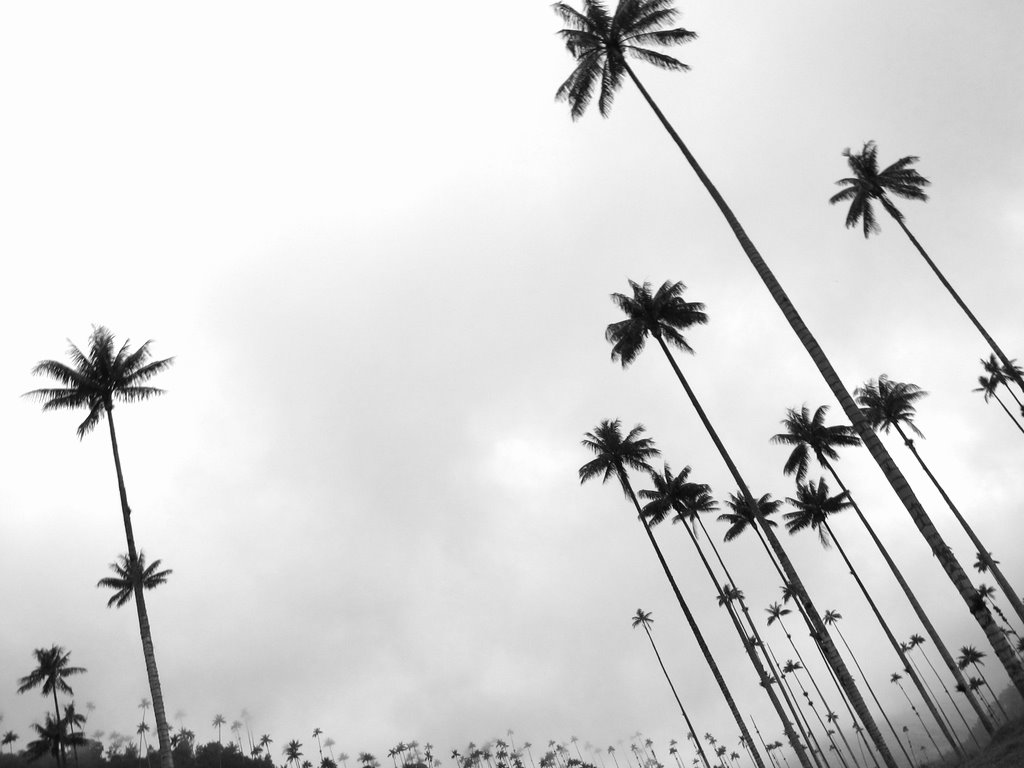 Many people came to Salento to see the Valle de Cocora and for a good reason. The landscape of these tall palm trees hovering above the cloud forests is so unique (see pictures from Valle de Cocora).
We have met many other visitors during our stay there and everybody seemed to either scoff at the idea of seeing palm trees (including us) or have such a high expectation of it.
But nobody came back from Valle de Cocora disappointed.
Jesus Martin Coffee
Marcella from seecolombia has been our unofficial (and knowledgable) guide to this country and when she said we shouldn't miss a visit to Jesus Martin in Salento, we followed her advice.
And as usual, she was right. Jesus Martin is where we've had some of the best coffee we've ever had. Period. Not only in Colombia. But ever. And we love coffee, ya?
We usually stick to the usual espresso, latte or cappuccino but one day I decided to try their cold coffee and ordered a combination of espresso, Bailey's, milk, and Milo. Topped with whipped cream and just a dash of cinnamon on top.
Heaven in a glass, I'm telling you.
Don Alvaro's horses
I went with a bunch of other people from the hostel on a horseback riding once. We went with Don Alvaro, a guide that's recommended by our hostel. Jack, concerned with a possibility of a bruised manhood, decided to opt out. And I have to say it was probably a wise decision.
Because these horses LOVED .TO. RUN. Whenever we came across an open space (and being a countryside, there was plenty of these) they just started running. Hard.
The feeling of wind on my face while galloping through a beautiful landscape was indescribable. I have to say that I'm a little smitten with this whole horse-riding thing.
Can you say a cowgirl in the making?
Shopping for souvenirs on the artisan lane
There's a lane off the main plaza in Salento that's lined with shops selling locally made arts and crafts – bracelets, ponchos, lampshades, etc. Jack and I bought some bracelets here and had a lot of fun afternoons just hanging out people watching and window shopping.
Trucha del Ajillo
There are a lot of restaurants selling truchas (trouts) in Salento. Even though it's not a local specialty, Salento is where Jack and I had our first Trucha del Ajillo and Trucha Marinera.
What is Trucha del Ajillo?
It's basically a fried trout smothered with a sauce made of cheese and milk. Topped with even more cheese and put on a stove until the cheese melts. It's served in its whole bubbly, cheesy, goodness along with patacones (very thin, wafer-like banana. Fried of course) and rice.
Trucha Marinera is very similar but served with other seafood such as calamari, shrimps, and other type of fish.
Heart attack on a plate? No doubt.
Considering that we've been complaining about Colombian food, saying that Trucha del Ajillo is the highlight of our Colombian culinary experience doesn't say much. But it should say something that we've had at least 4 of these babies during our stay in Salento.
The best value for these truchas can be found at Andrea's – located on the same street as where the artesans' shops are.
La Serrana
And I guess I can't really write about Salento and leave out La Serrana, our home for these wonderful 10 days.
Staying in La Serrana was like staying in somebody's house – comfortable couches in the living room, huge dining table in the common area, and a hammock overlooking a green, lush, valley. It was easy to meet people there and it was hard to leave.
—
Without a doubt, Salento is definitely one of the highlights of our 5 week stay in Colombia. It was a wonderful ending to our 5 week jaunt in Colombia.