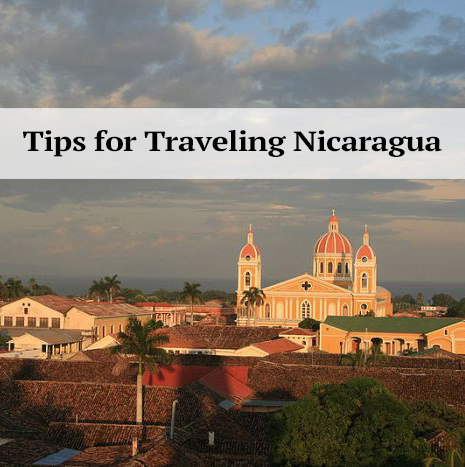 Nicaragua
Some people write guides. I write a brain dump: a collection of mostly unfiltered and lightly unorganized thoughts on an event or a place. This is a brain dump on Nicaragua that includes some of my favorite things to do in Nicaragua, tips on exploring Nicaragua, that I hope will help future visitors.
Most visitors come to Nicaragua and see Granada, Leon, San Juan del Sur, and Island Ometepe. I didn't get any further south than Granada. I knew I wanted to spend more time up north in the coffee country and to go all the way south to San Juan and Ometepe would mean backtracking quite a bit.
I loved the northern part of Nicaragua. It reminded me a bit of southern Colombia: friendly people and lush villages. The pace is slower. And there's a lot of coffee. With all of the volcanoes and jungles it also offers a lot of outdoor adventure activities. My kind of place really.
2013 exchange rate: 1 USD = 25 Cordobas
When should you visit Nicaragua?
I will hesitantly recommend not traveling to Nicaragua in the dry season. Why with hesitancy? Because despite the heat and the dust, I really enjoyed my time there. But everywhere I went, it was obvious that it was the dry season. Everything was… well, dry. The countryside was yellow with dried vegetation, the rivers and waterfalls were devoid of water, and walking the country roads left you tasting dust for days afterwards.
Which made me think that in the right season (end of rainy season, January – February), Nicaragua would be 10x more beautiful and therefore if you have the luxury of being flexible with your time, this would be the best time to visit Nicaragua.
Budget – How much does it cost to visit Nicaragua?
You can travel in Nicaragua for relatively cheaply. A dorm bed costs about $6-$8. A meal costs about $1.50 – $2. Chicken buses cost about $1 per hour ride. So if you do nothing but eat and sleep, it should cost you roughly about $15 a day.
I spent about $30/day with the extra cost coming from occasional western meals and activities such as volcano trekking ($69), horseback riding ($20), and canyoning in Somoto Canyon ($25).
Food
Get ready for rice, beans, and tortillas extravaganza. Most likely you'll have it for breakfast and lunch (and dinner if you're really unlucky). Escape to gringo owned restaurants for varieties. On this post I'll talk mostly about non-Nica food since local food can be easily found in comedores throughout the cities and they all tasted about the same.
Breakfast in Nicaragua costs around 35-40 Cordobas and includes gallo pinto, eggs, plaintain, and cheese. Coffee sometimes included.
Restaurants in Matagalpa
Casa Abya Yala
Down the street and across from La Buena Onda serves delicious vegetarian friendly sandwiches and breakfast, coffee, and fruit juices. Very cheap. Good wifi.
La Bella Vita
Right behind La Buena Onda, tucked inside a narrow alley is this authentic Italian eatery that serves home made pasta and pizza and good wine.
Restaurants in Leon
Pan y Pan – Great French bakery serving fresh mango smoothie and awesome sandwiches on crunchy, tasty baguette. The croissants is just ok. The pesto and the different type of cheese sandwiches never disappointed.
Restaurants in Granada
I found that my hostel, El Momento, served excellent food: sandwiches, burritos, and even vegetable curry. There were other places that serve foreigner friendly fare but Granada was the first city I arrived in so I was excited to try the local fare and was eating Nica food most of the times.
Restaurants in Esteli
Cafe Luz
The only place I've found that serves vegetarian nacatamale – a Nicaraguan specialty of corn/rice. Usually filled with pork. At 45 Cordobas, this brick sized veggie version from Cafe Luz is a steal. Also try the lentil, the eggplant, and veggie lasagna.
Getting Internet on Your Phone
All hostels I've been to in Nicaragua have wifi. To get Internet on your phone, as long as your phone is unlocked, you can go to either Claro or Movistar and buy an Internet package, 15 days plan (1GB total) costs $9.
Transportation
Chicken Buses
Chicken buses, those refurbished yellow school buses, were still the main way to get around in Nicaragua, especially in rural area. They're ridiculously cheap. About 25 Cordobas for 2 hour journey. It can be extremely dusty, crowded, and hot but did I say they were cheap?
Expreso
Expreso is supposed to stop less times and go directly from departure point and arrival city. In practice, often they take the same amount of time as ordinary buses. But still, I always tried to take the expreso whenever I could.
How to get from Granada to Matagalpa (without going through Managua)
I tried to avoid Managua whenever I could. There are too many horror stories. The Dutch owner of Matagalpa tours recommended the route of Granada – Masaya – Tipitapa – Matagalpa. In theory it's supposed to be faster (it's the hypothenuse of the triangle) and you don't have to deal with taking a taxi between UCA and Mayoreo terminals in Managua (and risked getting kidnapped and robbed). I found it pretty straight forward. Take a Masaya bound chicken bus from Granada, at the terminal in Masaya transfer to a microbus to Tipitapa. Ask to be dropped off at la carretera in Tipitapa to catch another chickenbus to Matagalpa.
How to get from Esteli to Airport
The Managua bound expreso from Esteli passes infront of the airport and stops in front of Hotel Las Mercedes. Simply asked to be dropped off and you cross the street and wallah!
The tricky part is knowing where/when to ask to be dropped off. The bus only stops at the airport by requests. I used Google Map's GPS to let me know that I was getting close so I could make my way to the front of the bus to ask to be dropped off.
How to get from Managua Airport to Granada
I cheated and took the easy way out. A shuttle from Managua Airport to Granada cost $20-$25. The recommended way, the 'budget' way is to get a taxi from the airport to UCA (Universidad Centroamericana) and take a microbus from there to Granada. But taxi from the airport would cost $20 to the city (cartel). So you have to cross the street and hail one from there, bargain, (would still cost you around $10), yadda, yadda, yadda…
If you can afford it, get the shuttle.
Taxis
Taxis in Nicaragua are shared. So don't be surprised when your taxi driver stops and picks up other passengers while you're in the car. Vice versa, don't hesitate to hail one even when you see there's already someone in there. In some cities, the taxi fare is fixed per person and no negotiating needed. In my experience, taxi drivers were fair and I've never had an ocassion where they try to overcharge me. Some drivers might try to charge extra if you have large amount of luggage.
If you wanted a taxi for your own (might be a good idea in some scenarios), simply offer to pay for the whole taxi. Taxis are so cheap that paying for the whole taxi is still very cheap.
Leon – Taxis from anywhere in the city costs 20 Cordobas.
Esteli – Bus terminal to city central 10 Cordobas
Matagalpa – 10 Cordobas
Safety in Nicaragua
I spent most of my time in rural Nicaragua in the highlands among farmers and villages so my experience in big cities are limited but in places I've spent some time in (Leon, Matagalpa, Esteli) I felt safe during the day. I can't comment much about night time activities since I didn't spend much time outside after dark.
Being a woman walking around mostly alone (and this being Latin America), catcalls were unavoidable. They're incredibly annoying. A woman friend had an unpleasant experience being followed by a teenager making rude gesture and who even pulled out his you-know-what in Esteli.
Granada had some dodgy parts and there were warning signs all over the hostel about attempted pickpocket and robberies by the waterfront. Watch out for little kids showing up at your dinner table in La Calzada, the main stretch of tourist-friendly restaurants. One would distract you and another will try to pickpocket you. Don't give them money since I've seen them give the money to their 'boss' standing in the corner.
Managua is infamous for all sorts of scams/robberies. I was told numerous times by both expats and Nicaraguans, to avoid the bus station in Matagalpa. If you have to take a taxi from el Mayoreo (Managua's main bus terminal), you might want to pay for the whole taxi and tell the driver to not stop for anybody else.
Hostels in Nicaragua
Granada
Hostal El Momento – one of the best hostels I've ever stayed in. Helpful front desk persons, spacious dorms, and a fan for each bunkbed! Good food at the onsite restaurants and decent wifi.
Leon
La Tortuga Booluda – also a very, very good hotel. Again, a fan for each bunkbed! A BIG plus for such a hot city. As a guest you have an open tab and you just write down what you take out of the fridge on your sheet. Good wifi, variety of places to lounge around. Highly recommended.
Hostal Casa Ivana is also a highly recommended and budget-friendly option.
Not so hotly recommended
Via Via (the hostel) – bleh service, bleh dorm room. Good food served at the restaurant.
Matagalpa
La Buena Onda – This hostel is slightly overhyped but I still recommend it because of its proximity to 2 of my favorite hang out places in the city: Casa Abya Yala and La Bella Vita (see Food above). Also, Lester – the night front desk receptionist was so helpful! He's Nicaraguan but his first and middle name is Lester Abdul. We both agreed that his parents are really creative.
Things to Do in Nicaragua
Granada
– Check out the hammock making workshop and its adjacent coffeeshop run completely by deaf-mute people.
– Climb the bell tower of La Merced church for a nice bird's eye view of Granada.
– Unless you definitely need to get some souvenirs, I'd skip the market in Masaya.
– In Masaya, if you walk towards the malecon (the waterfront), you'll pass houses that double as hammock workshops. The prices are about the same but you get to see how/where these hammocks are made.
Leon
– Go climb a volcano
– Check out the churches
– Volcano boarding – I don't think you're allowed to go to Leon and NOT go volcano boarding.
– Climb up to the roof at the cathedral for a sweeping view of the city. When I was there, there was a construction going on and the main area was closed. Not worth it.
Matagalpa
– Hike the cloudforest and relax in the beautiful setting of La Selva Negra
– Check out the butterfly reserve and the frog nursery in La Sombra
– Drink excellent coffee from Cafe Barista by the cathedral and Casa Abya Yala
Esteli
– Find Esteli's elusive sculptor whose sculptures adorn the mountainside in Tisey Natural Reserve.
– Hike the mirador at Eco Posada for an expansive view of area.
– Bike or hike to El Salto Estanzuela, Esteli's favorite swimming hole. 5 km from the city.
—
In closing, my time in Nicaragua can be summed up in 3 words: "it was uncomplicated". Speaking a little Spanish definitely helps. I can't say much about the southern part of Nicaragua, but I loved my time in the north and I'd love to come back when it's not the dry season.
I hope this posts helps someone traveling to Nicaragua. If you have any updates or any additional tips to what I have here, leave them in the comment section below.