If Key West is all about the over-55 crowd in cut-off tshirts and shorts re-living their frat life, South Beach is all about the glams and the blings. South Beach is where excesses are flaunted and skins are shown. In theory I should feel more at home in low key (har har) Key West, but in reality I fell in love with South Beach vibe the moment I stepped out of my cab in front of my hostel.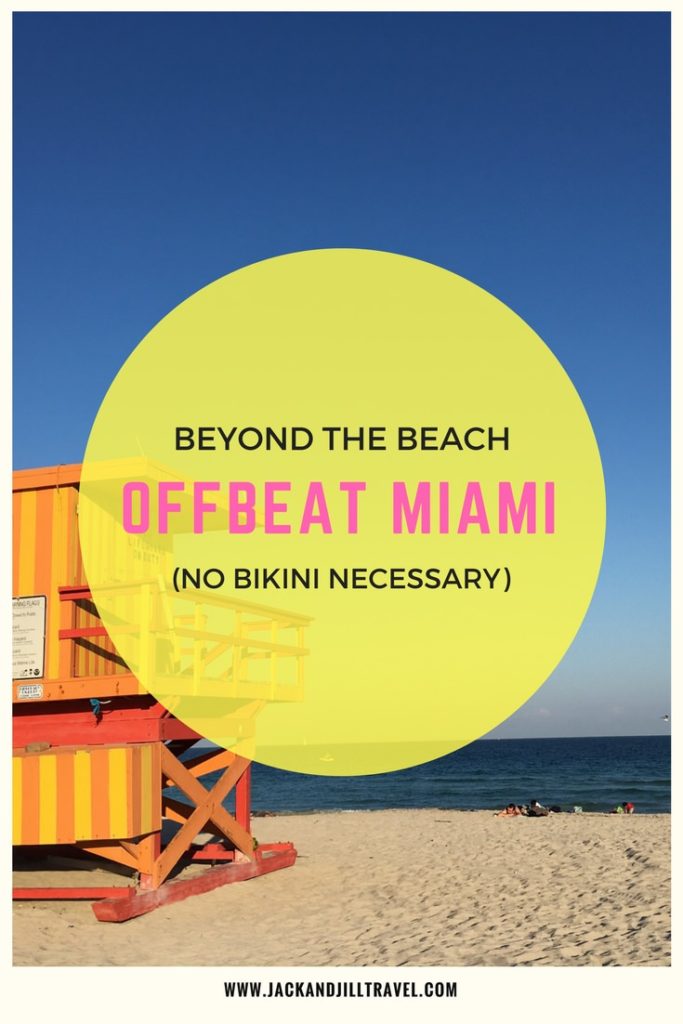 First of all, South Beach has the beach, something that Key West is lacking. I'm not much of a beach person, preferring snow-capped peaks over hot sand and salty water any day, but you don't have to be a beach person to appreciate the long sandy shore and the shallow azure water of Miami Beach.
I mean, look at it. What a beach…
Then there are the art deco buildings with their "eyebrows" and cheese hole cutouts that give South Beach character. And there's the people. Miami is such a melting pot of Latin cultures. I met people from all over America continent: Venezuela, Colombia, Uruguay, Panama… Spanish was spoken everywhere. More people asked me if I speak Spanish than when I was in a Spanish-speaking country. The people were young, tanned, and beautiful. They know it and they flaunt it.
See in San Francisco, every one looks like slightly ruffled and unwashed, even the billionaires. In South Beach, every one looks like they just stepped out of Dancing With the Stars audition.
I walked around with eyes wide and a smile on my face, my steps in tune with reggaeton beat dominating the air (and there was always reggaeton playing). South Beach was different. I love different.
Let's get the confusing geography straightened our first. So Miami Beach is NOT Miami, they're two different cities. South Beach is a section of Miami Beach. If you're visiting Miami Beach, I recommend staying in South Beach where all the art deco buildings, restaurants and shops are all within walking distance while all of Miami's other attractions are a short Uber/Lyft drive away.
Because of if you're anything like me, the idea of lounging around the beach all day makes you antsy and soon you'll be looking for something to do beyond the beach in Miami. Here are my recommendations.
The Erotic Art Museum
Do you know that the largest sex museum in the US can be found in South Beach? I didn't. When I found out, I just had to go. What can I say? (I do have a weakness for this kind of stuff).
It was Valentine's Day when I visited and I was the only solo visitor among a few of giggling couples in the museum. Awkward? Well, it's only awkward if you let it be.
The museum was HUGE and filled with fascinating eroticas from all over the world. Some made me cringe outwardly. Some made me tilt my head and go "WTF?" The four penis poster bed was something you need to see on your own to believe. The paintings involving Disney characters will ruin your childhood. And let's just say that I'll never be able to see apples the same way again.
This is not a place for those who easily blush.
Food Tour of Little Havana
Despite some unpleasant moments in Cuba, I do miss certain aspects of the country, notably Cuban food which is not as common here in California as it is on East Coast.
Joining a food tour of Miami's Little Havana sounds like a great idea. This way I'll get to learn about the Cuban community in Miami and get my fix of Cuban food. Two birds, one stone type of thing. If you haven't been on a food tour, I highly recommend doing so the next time you travel. I always try to go on a food tour on my very first day in a new city (I even took one in a city I've lived in for years and learned a lot!). It's a great way to learn about the neighborhood, the local specialties, and where to get them.
Our food tour starts from La Taberna del Pintor, a colorful art gallery/wine bar on Calle Ocho where we chatted with the owner over plates of fried plantains. What followed was a never ending smorgasbord of Cuban food and snacks: empanadas, Cuban sandwich, Cuban coffee, guava pastelitos, and fresh sugar cane juice.
All stops on this food tour were along Calle Ocho which is the center of Cuban life and culture in Miami's Little Havana. This vibrant street is known for its Cuban restaurants, ventanitas ("little windows" from which you can get Cuban coffee and snacks), and Cuban bakeries.
We also made a couple of non-food stops at a Cuban cigar factory and at Maximo Gomez Domino Park – a popular hangout spot where Little Havana locals smoke cigars and gossip over a game of dominoes.
At first glance, Miami's Little Havana looks just like any small American town's main street. For a glimpse of real Havana Vieja ambiance, step inside Ball and Chain, a landmark drinking hole.
I could almost believe I'd been transported back to Havana. It's a large space with a circular bar in the center, outdated booths lining the sides, and completely open to the streets. Its walls are covered in old posters and photographs. There's a garden terrace at the back with a stage for live bands to perform. Here in Ball and Chain, as part of the food tour we got to try Hemingway's favorite Cuban cocktail: mojito. Our guide swears that Ball and Chain serves the best mojitos in Little Havana. (Personally, I thought it was way too sweet.)
Pro tip: Come hungry for the food tour. They're not stingy at all with samples. If you have a sweet tooth, it's even better!! After the Cuban coffee (which is super sweet), guava pastry, and the mojito, we ended the tour at an ice cream store. I was so high on sugar for the rest of the day!
I recommend Miami Culinary Tours – I thought they did an awesome job,
Art Deco Tour
Pay a visit to South Beach Art Deco museum to learn about the architecture style that characterizes South Beach. Miami Design Preservation League runs daily art deco tours from right outside the museum for $25 as well as self-guided audio tours. Or you can a combo of art deco + food tour of South Beach!
Wynnwood Art District
This area used to be one of the many under-employed, high crime districts in Miami until Tony Goldman, a property developer, bought an old warehouse and converted it into an open air gallery of murals called Wynwood Walls. Many well known street artists have contributed to Wynnwood Walls which soon became one of Miami's top tourist destinations.
Nowadays art galleries, cafes, museums, and restaurants are housed in what used to be old factories and warehouses in Wynnwood District making it one of Miami's newest trendy neighborhoods.
I enjoyed learning about how this art district came about as much as looking at the super awesome murals. I love the optimism of the narrative that arts can be a change for good.
Wynnwood Art Walk offers guided tours of the area. Or you can do what I did and use this free self-guided walking tour created by Anna Vamos.
Other offbeat Miami destinations to see.
If I had enough time I'd get a ticket to one of those Hop Off Hop On Bus (check Groupon for 50% discount) to visit these sights that are located a little bit further:
Coral Castle
A sculpture garden created single-handedly by "Ed", who worked in secrecy to carve over 1,100 tons of coral rock to create this garden. Highlights of the Coral Castle include a 9-ton gate that allegedly moves with just a touch of the finger, a Polaris telescope, and rocking chairs made entirely of stone.
Venetian Pool
A beautiful spring-fed pool located in an old stone quarry.
I gotta say, Miami turned out to be so much better and funner than I expected. There's a certain of energy about South Beach that I love. Now that I learned that Miami is a jumping off point for many Caribbean destinations (and with such a cheap flight from San Francisco), I can see myself coming back again and again.