As an outdoor and road trip lover, I'm lucky to call California home. With its abundance of state and national parks, California is home to some of my favorite stretches of road. Having said that, Jack and I don't drive much since we don't even own a car, so driving in Florida turned out to be quite a shock.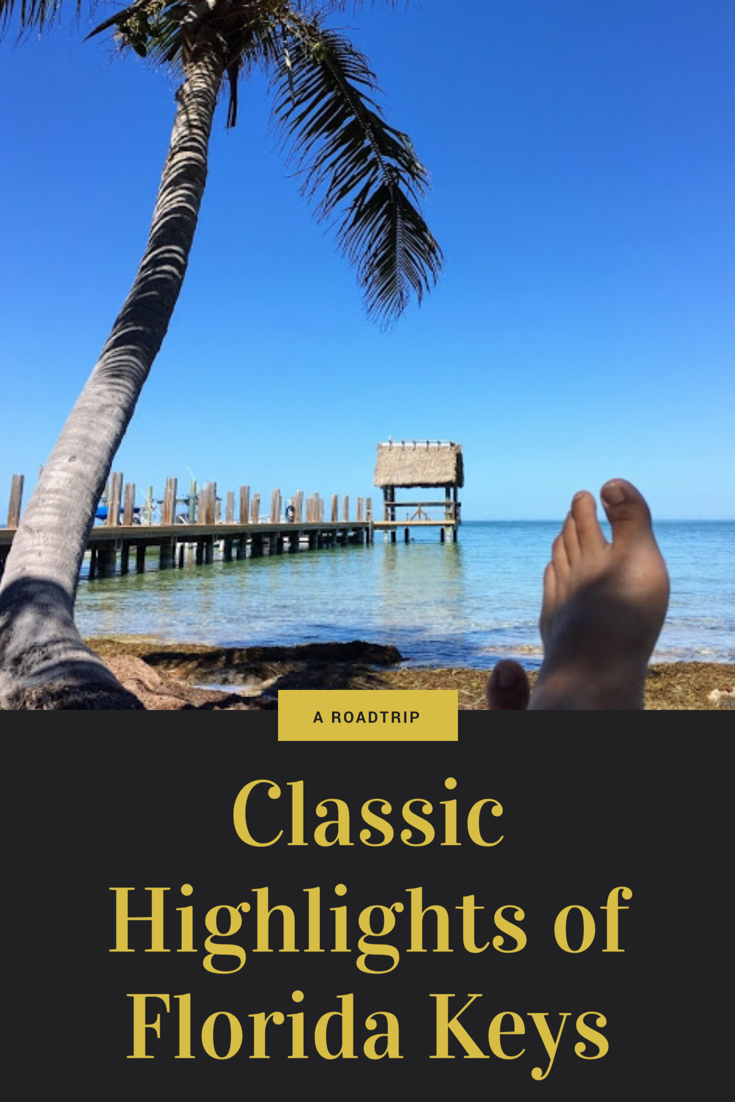 After spending some time navigating the spaghetti freeways of Orlando and Miami, I was afraid I'd made a mistake to go on this solo road trip to Florida Keys. I saw more horrible car crashes in the 2 weeks in Florida than I have in recent years (and this is after spending a year on the road in a Sprinter van).
Not until I actually left Miami behind did I start to relax. The horizon opened up, traffic eased, and the convoluting overpasses made way to two-lane road passing through communities with names such as Marathon, Islamorada, Key Largo, etc. Some looked like they haven't changed much in decades. My jaw unclenched, I took a deep breath, and felt my shoulders softening up.
Anxiety made way for that giddy high I get whenever I'm behind the wheel with open road in front of me. I was getting psyched! Florida Keys, here I come!
[google_maps id="12038″]
My Florida Keys Roadtrip Itinerary
There are a lot of great stops along the way to Key West – many are nature or outdoor related. My Florida Keys itinerary includes state parks, snorkeling stops, and plenty of breaks for key lime pies and conch fritters! As with any classic roadtrip, getting there is 90% of the fun.
Biscayne Bay National Park
My first stop in Florida Keys is Biscayne Bay National Park. Within sights of Miami, this national park (my #37) consists of a series of keys. Guided boat tours depart from the park's Dante Fascell Visitor Center on select Thursdays, Fridays, Saturdays and Sundays (reservation highly recommended) to Boca Chita Key. While waiting for my boat to depart, I poked around the small marina trying to spot the manatees I heard was hanging around. No luck though.
My experience at Boca Chita was a mixed bag. It's a beautiful island but so far removed from a wilderness experience I've come to associate with national parks. Our arrival at the key was greeted by unmistakable reggaeton blaring from various sleek yachts moored in the key's little harbor. People were all over the grassy flat part of the island: sun tanning, dancing, or grilling. I felt like I was crashing the beach party of Miami's rich and beautiful. My mouth was agape at the surreal surrounding. What is going on?
We climbed up the lighthouse where we enjoyed a bird's eye view of the revelers. My tour guide said, "Look at it this way. By keeping the partiers in one spot, we are be able to protect the rest of the park more." I nodded, but I wasn't convinced.
John Pennekamp Coral Reef State Park
The next morning I started driving down the Overseas Highway (US Route 1) that takes you from Key Largo in the North to Key West in the south.
My first stop along the Overseas Highway is John Pennekamp Coral Reef State Park, the first undersea park in the US that was created to protect the only living coral reefs in continental US.
I signed up for 10:30am snorkeling trip and we were given a choice of which snorkeling spots to go to. One guy spoke for the group and convinced the captain to take us to the sunken Jesus statue.
Called "Christ of the Abyss", this 4,000 pound bronze sculpture of Jesus Christ stands in 25 feet of water off of Key Largo and is supposed to be one of the best snorkeling spots in Florida Keys.
And you know what? Christ of the Abyss was indeed a pretty rad snorkeling spot. The reef was very shallow so you can see a lot even from the surface. There were beds of swaying purple and red sea fans. There were jellyfish and tons of barracudas. Totally worth the sea sickness I had to endure afterwards.
Florida Keys Brewing
My next stop was the Turtle Hospital. On the way, I saw a sign for Florida Keys Brewing company. It was 80 degree in February in the Keys and beer sounded hella good. Gotta support local craft beer producers, right? The brewery was located a few blocks off US Route 1 in a building decorated in tropical theme – a nice change from the chrome-meet-wood warehouse look west coast breweries are so partial for.
Turtle Hospital
Then it was time to check out some sick and injured turtles at the Turtle Hospital. The $22 admission goes towards helping sick and injured turtles suffering from all sorts of things like tumors, net entanglements, and starvation from eating too much garbage. You get to meet some permanent residents of the hospital as well as recovering turtles on their way to being released back to the ocean. I learned a lot here even though some of things I saw were heart breaking. Definitely worth a stop.
My accommodation for the night is a bunk bed in a dark makeshift dorm room in Marathon. $50/night doesn't get you much in Florida Keys. My roommates were 2 Austrian backpackers who were traveling in Florida Keys without a car. I was flabbergasted. "How?" I asked.
"There are buses. 5 a day. Sometimes we get lucky and hitch a ride." Ah, to be young again.
Seafood dinner at Keys Fisheries – yum!
Dinner was a cup of stone crab chowder (yum) and conch fritters (eh) at Keys Fisheries. I've decided that stone crabs > conch anytime. Conch – pronounced 'conk' – was chewy. Like octopus. Not really my thing. But stone crabs were delicious!
As a side note, do you know how they harvest stone crabs? They rip off one of their claws before throwing the crab back in the ocean where they will regrow their claw. This type of sustainability sounds both awful and ingenious at the same time. Did I mention they're delicious?
7 Mile Bridge and Pigeon Key Island
The next morning I continued down the Overseas Highway to Key West, the bottom of Florida Keys. Soon after I found myself driving across the 7 Mile Bridge – one of the longest bridges in existence.
The old 7-mile bridge runs parallel the new one and is usually open to pedestrians and bikers. It was unfortunately closed for construction then. I noticed that the old bridge crosses an island with a few pastel yellow buildings and palm trees. I was intrigued enough to pull over and look it up. The little island turned out to be Pigeon Key, the site of a work camp for people who built the bridge.
I learned that there was a guided tour of the key and the next ferry leaves from the Pigeon Key Visitor Center in 1 hour. "Why not," I thought and turned the car around to find the visitor center.
Pigeon Key still contains buildings that used to house the workers even though now they mostly house interns and visiting researchers. It took me 20 minutes to poke around the island and walk through the small but thorough museum. It's a very tiny island with great views of the bridges. It seems so close yet so far from the rest of the Keys. I wonder what it must've been like for the workers who lived on this small island for months.
Key West
After the short and unplanned detour, 1 hour later I finally entered Key West.
Duvall street is the main street in Key West and contains many bars, restaurants, souvenir stores, anything keylime, and stands selling sailing trips and tram rides.
I walked Duvall street from one end to the other. I stopped by the southernmost point of continental US. (What most people don't know is that the real southernmost point is the peninsula behind it where the satellite dishes were. ). I went to see the famous polydactyl cats at Hemingway's Home but you can't even enter the ground without paying admission. Not to mention it seemed very crowded already. So I decided to pass.
I poked my head inside a few galleries before ending at Mallory Square. It was a couple of hours before sunset and street vendors were just setting up.
Mallory Square is the place to be in Key West to watch sunset. This is when it comes alive with street performers and vendors selling souvenirs and snacks.
I had a choice of running back to put more money in the meter so I can hang out in Mallory Square for sunset or to head back on the road to Marathon. I didn't want to shell out more money for parking and I wasn't too crazy about the vibe in Key West anyway, so I decided to leave Key West. BUT not before doing the one thing every tourist has to do in Florida Keys: eat a key lime pie!
Key Lime Pie at Pepe's Cafe, Key West
On my way back to the car, I made a quick detour to Pepe's Cafe for their famous key lime pie. "But you don't even like key lime pie!" – the little voice in my head says. "Suck it up. You can't go to Florida Keys, the birthplace of Key Lime Pie and not have a key lime pie," the do-things-by-the-guidebook part of me counters.
If I were going to try only one key lime pie, it'd better be one of the best key lime pies the Keys has to offer. Pepe's Cafe claims to be the Key's oldest restaurant (it has been around since 1909) and Epicurious did a feature recipe on their key lime pie, so I figured they must be doing something right. This is Key West's only chance to get me on the key lime pie wagon.
(Pepe's also has coconut cream pies that I was so very tempted to get. Not being able to share meals is one of the big disadvantages of traveling solo).
At Pepe's they serve their key lime pie in a bowl and a spoon topped with a generous, sloppy mess of whipped cream. The filling was proper yellow and fluffy from the addition of whipped egg whites. I don't usually like sour desserts but Pepe's pie had just the right tangy-sweet combination that I actually finished it! So all in all, I think my gamble paid off.
High on sugar, I waddled back to my car. Parking around Duvall Street was a little tricky and I wasn't sure if I had paid for parking correctly so I was ecstatic not to see a parking ticket.
Bahia Honda State Park
I made it in time for sunset at Bahia Honda State Park and I parked my car as close to the water as possible. The sky was blazing orange and there was a warm breeze accompanying the sound of crashing waves around me. I moved the passenger seat as far back as possible, put my feet up on the dashboard, and watch the colors slowly leaving the sky.
I couldn't think of a better place to end a long day on this classic American roadtrip.
[google_maps id="12038″]
Highlights Along Overseas Highway
John Pennekamp Marine: Admission $4. $29.95 for snorkeling trip. $50 including gear rental and purchase of a snorkel. Glass boat tour is also available.
Florida Keys Brewery: MM 81.6, Islamorada, Key West
Turtle Hospital:Admission: $22 2396 Overseas Highway, Marathon, FL
Keys Fisheries: 3502 Gulfview Ave, Marathon, FL
Pigeon Key: Ferry leaves the Visitor's Center at 10am, 12pm, and 2pm. Guided tour cost $11.
Pepe's Cafe: 806 Caroline Street, Key West, FL
Bahia Honda State Park: Admission: $4 36850 Overseas Hwy, Big Pine Key, FL
Where to Stay along Florida Keys
In Marathon
: Captain Pip's Marina, from $160. The best option for budget-minded travelers. I can't really recommend the dorm I stayed in (and they seem to have gone out of business anyway).
In Key West
: Merlin's Guest House, from $230. A good value option. Accommodation in Key West is $$$. If you're on a budget, I'd recommend staying in Marathon and making a daytrip from there.
Before you go
Recommended books: Florida Authentica: Your field guide to the unique, eccentric, and natural marvels of the real Sunshine State
P.S.: Looking for other things to do in the Sunshine State? How about swimming with wild manatees and see real mermaids?