Merzouga, Morocco
See part 1 of our desert adventure.
Going camel trekking in the desert has been something I'd dreamed of doing for many, many years (see #4 in this post). And finally, here in Morocco, I had a chance to make it happen.
It wasn't quite how I had imagined.
After handing out 700 Dirhams to our hostel owner in Merzouga, we went to meet our two camels and our 'guides' – both named Mohammed. Big Mohammed is 18 year old while small Mohammed is 13. 'Shouldn't you guys be in school?' I asked. They laughed, they haven't been in school for years.
I had little expectation that we'd learn anything much about the desert from our 'guides' and I wasn't disappointed. Still, they were fun kids.
What's riding a camel like?
Camels are interesting creature. I always think that they can easily topple over. They don't look too big – but they're taller than you'd think. I've heard of people getting seasick from riding them because they sway so much.
Getting on and off a camel is always an interesting and exaggerated affair.
You need a groin of steel to ride a camel for a long time. After 10 minutes into our camel trekking, we became aware that what we had between our legs was a hump that is neither fluffy nor is it easily diguised under a blanket or two (or 20).
(By the way, do you want to learn how to draw camels for good cause? Check out our friend, Phil's How to Draw Camels site.)
The sand dunes of Erg Chebby desert are amazing!
We had never seen anything quite like it – soft, undulating sand dunes as far as they eyes can see. And such colors! Even under the harsh mid-day light, the rose/orange color of the dunes was mesmerizing.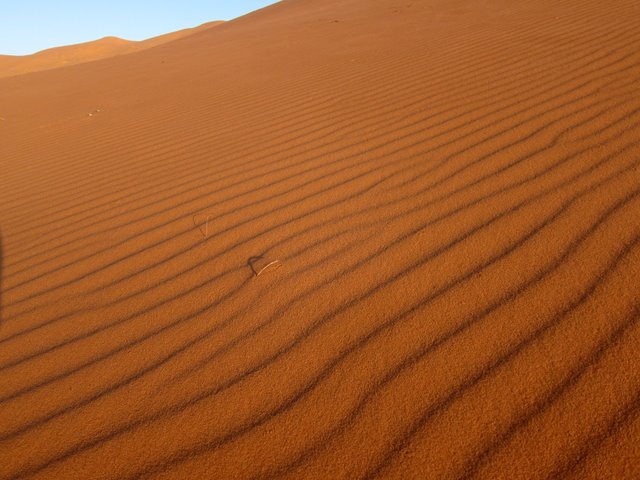 We stopped to watch the sun go down and play around in the dunes.

When we got to our camp for the night, I expected someone there to greet us and take care of us. You know, like a hotel in the middle of the desert. But the dark and the abandoned look of the camp upon arrival told us otherwise.
Jack elbowed me, 'Dude, it's just going to be us and the kids in this place!'
Not sure which concerned me more, the fact that we were going to be alone in the middle of nowhere with a couple of kids, or the fact that my husband just called me 'dude'.
We wondered briefly if the 'kids' needed our help. But it seems that they mature faster here in the desert because soon they were serving us 'berber whiskey' and dinner of tajine, making our beds, and cleaning up after us. You know, doing the sort of things that Jack and I are barely capable of doing ourselves.
At night, Jack and I laid down on the warm sand and watched the stars. At that time, it was easy to imagine that we were the only people within miles around. So quiet and so surreal was the moon-lit landscape around us.
In the morning it was apparent that the feeling of solitude we felt was just it. A feeling. A short climb up a dune revealed a series of camp nearby that other hotels have built.
The trash also revealed itself. The Moroccan's view of the dune is quite aptly captured when I asked Big Mohammed where the bathroom is –
'Madame, the whole desert is your toilet,' he said.
Of course.
Don't get us wrong – camel trekking in the desert is so worth it because there's something about the desert that just so captivating. Though we wouldn't call an overnight camel trek in Merzouga a trip to the wilderness, it's surely a preview of what awaits beyond a couple of hour rides from town.
BUT if you've made it as far as Merzouga and crave for true wilderness, go for a multiday camel trekking where pristine dunes await. There you will truly feel like you're the only one out there.
As for me? I'd still love to venture further into the desert. And yes, on camels. Raw inner thighs and all. Not this time and maybe not in Morocco. But another time, another place.