This post contains places that aren't normally on first time visitors' list of things to do in Bali. If you've been to Bali before, or maybe you're just looking for something different to do in Bali, you should check these places out. It might make you fall in love with Bali (again).
Bali has somewhat of a bad reputation, don't you think? People say that it's not the "real" Indonesia, that it's overrun by Aussies on spring break and that it's full of trash. And yes, they do have a point. Some parts of Bali are so overdeveloped it hurts and trash is a problem. But long-timers, expats, and frequent visitors argue that you can still find whatever it was that made them fall in love with Bali for the first time: quiet beaches, lush rice fields, and tradition still so strong it's everywhere you look.
For me, I've always found Bali easy to like. As an Indonesian-born who now calls San Francisco home, Bali fits me. I love the fact that I can eat mixed rice from a warung for breakfast and enjoy a legit cocktail before dinner.
My family and I visit Bali regularly. Our standard Bali itinerary involves staying in Canggu or Seminyak before making our way to Ubud and Lovina in the north. On my last visit to see my family in Indonesia, we decided to make another trip to Bali. However, this time I was determined to see parts of Bali neither of us had ever visited before.
[google_maps id="14540″]
Traveling to Bali with a wheelchair
This trip was particularly challenging to organize because my dad uses a wheelchair now and Indonesia is still way behind in making public spaces accessible to wheelchair users. If you've been to Bali, you'll know what I mean. Parts of sidewalk not collapsed are either blocked by motorbikes or food vendors. Steps are an important part of traditional Bali architecture, so steps are everywhere.
Wheelchair friendly Villas in Bali
Finding wheelchair accessible accommodations in Bali is not easy, you have to dig around a lot. You can't assume just because it's a fancy 5-star hotel that it'll be wheelchair friendly. As a matter of fact, places we found in Bali that are wheelchair accessible are actually smaller, 3-5 bedroom, villas.
On a plus side, if you're a wheelchair user Bali is probably one of the easiest places to visit in Indonesia. Some of the villas in Bali have made an effort to be wheelchair friendly (I've mentioned a few of them below). Villa G in Sanur even has a wheelchair lift for the swimming pool! The same is true for some tourist sites (e.g. Tanah Lot). The beach path along Sanur and Nusa Dua is paved and wheelchair friendly. Not to mention that whenever you need an extra pair of hands, Balinese people are more than happy to help out.
I'm so glad I had the opportunity to do this trip with all of my family* (*too bad Jack can't make it). Way back when, we would do one of these roadtrips every school break as a family. But now that I live in the States and my brother works full time, it's much harder to plan. But it's so worth it!
Below is the highlights from our last family trip to Bali.
Offbeat Bali Destinations
Stay in Canggu among the digital nomads and green rice fields
Every town in Bali seems to have its own stereotypes. Kuta is known for its parties, Seminyak for its upscale hotels and galleries, Ubud for its artists and culture-heavy atmosphere. But I always prefer to base myself in Canggu when in Bali.
Canggu has just enough of that chill-vibe that says "vacation" without too heavy handed with it (I know this sounds really vague but it's the best I can come up with). Canggu also seems to be popular among digital nomads. You can see them typing away in Western friendly cafes and restaurants in Canggu. One can argue it's totally hipster-ized and hey, maybe that's why this San Franciscan feels at home here.
Where to Stay in Canggu: The accommodation in Canggu mostly consists 2-4 bedroom villas where you have the option to rent a room or the whole villa. We stayed in Villa Rangga Bodhi, a wheelchair accessible villa in Canggu. It's a beautiful villa with a private pool, spacious bedroom with balcony, and friendly staff. I'll definitely stay here again.
Accessibility: The room downstairs is easily accessed via a short ramp while the bathroom is spacious and fitted with bars.
Sunset and cocktails at Alila Seminyak
Last time Jack and I were in Bali, we became a huge fan of Alila. I can never afford a room in Alila, but thankfully I can still at least enjoy a meal and drinks here. The cocktails are quality, the food is sublime and for the quality, it easily costs 2 or 3 times as much here in San Francisco. The oceanfront view from the restaurant is oh-so pretty. The resort even has not one, not two, but three infinity pools – definitely something I need to check out on future visits.
Accessibility: the restaurant and bar in Alila is easily accessible with a wheelchair.
Jatiluwih Rice Terraces in Tabanan
On our second day, we drove 2 hour north of Canggu to Jatiluwih Rice Terraces. Jatiluwih is a fine example of the communal system of water irrigation, called "subak", that was developed by Balinese rice farmers. Because of this, the site has been nominated for UNESCO World Heritage site designation.

There are developed hiking trails that will take you among the countoured terraces of rice paddies. Parts of these are even wheelchair accessible (then it gets somewhat steep we weren't sure if we could push the wheelchair back up). I feel that I've seen enough ride paddies in my life I didn't have high expectation, but I was actually pleasantly surprised. It was really quite beautiful. Jatiluwih Rice Terraces is worth a detour if you're in the area.
Pro tip: No public transportation available so rental car is necessary. Leave early from Canggu to beat the crowd, and then have some ice tea or lunch at one of the restaurants facing the rice terraces.
The Hidden Canyon of Beji Guwang
Going river canyoning in Beji Guwang was a super fun detour, and probably my absolute favorite activity in Bali on this trip. You have to go with a guide, which I would recommend anyway, but basically you hike, swim, climb through a river canyon. If you go the whole length, it'll take about 2 hours. My brother and I decided to do the shorter version because we didn't want to keep our parents waiting for too long. It was super fun though and the canyon was quite beautiful.
The guide went barefooted and told us to do the same, but I'm honestly glad I had my Tevas on. So was my brother. The rocks were slippery and I felt that my Tevas were grippier than my own feet. If you have a pair of water shoes (such as these), it would be even better.
The guide will make you avoid going into the river as much as you can by scaling the canyon walls or stepping from one boulder to another. You do need to be in decent athletic shape to do this, otherwise you'll risk falling into the water. (You can also opt to just wade through the water if you want, but it's not as fun.) When we were there, the water wasn't so deep (waist high at most) so falling didn't hurt much (ask my brother, haha).
Just like any river canyon, water level will vary depending on season (we went in April and I thought the water level was just right) and flash flood is always a risk. So use your judgement.
Pro tip: Bring a lightweight waterproof bag (like this) to store your phone. Entrance is 15000 IDR per person and 100.000 IDR per guide. Lockers and showers are available.
The Twin Lakes: Lake Buyan and Lake Tamblingan
Past and above the popular Lake Bratan Temple and its tour buses, lie the twin lakes of Buyan and Tamblingan. These lakes are very popular for pre-wedding photoshoots. I much prefer seeing lakes from above, so we drove to one of the viewpoints located above the lakes. There are cafes set up here, some with gimmicky Instagram props. It's quite pretty up here.
The two lakes are part of a natural reserve so motorized boating isn't allowed (yes!). It adds to the loveliness of the area, I think.
Banyumala Twin Waterfall
Totally magnificent and worth the 15 minute muddy trek. The part of central Bali around the twin lakes (see above) is full of waterfalls and we wished we had time to see more. Many said that Banyumala is one of the best waterfalls in Bali, so despite some doubt that our rental car could make the narrow and steep drive down, we persevered and were handsomely rewarded.
Pro tip: Like I mentioned, the road down to the parking lot was narrow, steep, and ungraded. A high clearance car is recommended. If you have a regular car, I would not recommend driving it after rain.
Tenganan Traditional Village
Tenganan is a traditional Balinese village where "Bali Aga", the original Balinese live. I said original because they were here before 'modern' Balinese came from Java hundreds of years ago. The Bali Aga people resisted the Hindu caste system brought from Java and they've lived following their own aboriginal customs, relatively unchanged since they first settled on the island over one thousand years ago.
There are 2 Tenganan sub-villages: Dauh Tukad and Pegringsingan (yeah, it's a tongue-twister even for this Indonesian speaker) but we only went to the latter. Pegringsingan village is known for its rare double-ikat textiles, one of the three regions in the world where this method is used (the other two are India and Japan). In double-ikat, both the weft and weave of the cloth (the vertical and horizonal threads) are resist-dyed following a motif before weaving. Double-ikat textiles take months to weave and because of that, they're rather expensive.
Both my mom and I are suckers for traditional textiles and this was the main reason we came to Tenganan. There are a lot of houses in Tenganan that offer weaving demonstration as well as sell various handmade textiles. Prices vary from $30 USD to – $1500 USD (yikes!). The more expensive ones take years to make because of the lengthy dye-ing process.
Textiles and me
I can't help but buying handwoven textiles whenever I come across them in my travels. I have a growing collection from all over the world. One day I'll figure out what to do with them 🙂
If you decide to come to Tenganan villages (and you should – it's really quite unique) consider hiring a guide at the entrance. It really helps having a context when visiting living traditional villages such as Tenganan. Otherwise, it'll be easy to miss out on what makes these villages culturally unique.
Diving and beach bumming in Amed
Amed on Bali's eastern shore is great if you're looking for low-key beach time and its sunsets are stunning. Amed isn't one village, but a collection of small developments along a rocky coastline. Dive shops and cheap accomodations line the one street running through the town. Apparently Amed is one of the best places to go diving in Bali due to its abundance of corals close to shore. Not to mention that it's also a 30 min drive from Tulamben where you can dive the popular USS Liberty Wreck.
I took a refresher course here with Eurodive to get ready for my upcoming diving trip to Hawaii. It has been 4 years since my last dive so I was nervous, never been that comfortable with the whole idea of diving to begin with. Everything went well (aka I didn't die), so I was stoked about that. The corals were pretty but I was too focused on surviving I didn't get really pay much attention to what I saw. (I do remember seeing a swarm of baby catfish that moved in such a way it freaked me out.)
Jemeluk Bay (pic'd above) in Amed has a pebble strewn beach and the snorkeling here is supposed to be excellent. However the coral's easy access from the beach however is its own downfall and it's slowly being loved to death. The bay is lined with restaurants and guesthouses. Local ladies walk up and down the pebbly beach offering massages on lounge chairs (80k IDR for an hour).
Amed is strangely popular exclusively among Europeans (mostly French and Italians). We were the only domestic tourists we encountered in the 2 days we were in Amed. So weird, right?
Where to stay in Amed: Bila Resort. Like all other accommodations in Amed, Bila offers no-frills but comfortable rooms. Breakfast is included.
Accessibility: one of their rooms has been modified with ramps. The bathroom is fitted with shower bench and bars.
Lempuyang Temple
I'm not a big fan of temples in general, but
as far as temples go Lempuyang Temple is very, very beautiful
. It is said to predate the majority of Hindu temples on the island. I believe it. It looks different from all other Balinese temples. Lempuyang is actually a complex of temples, the highest one of which is reached via 1700+ steps. I was somewhat glad that when we were there we could only visit the lowest temple – no pressure to tackle the steps because we couldn't even if we wanted to (we didn't).
Ethical Bali: Please avoid unethical animal activities while visiting Bali. See this post for what to avoid and ethical Bali animals alternatives.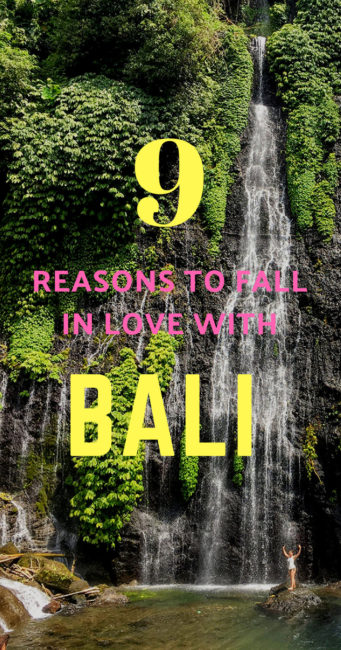 Getting Around Bali
The best way to visit these off-the-beaten-path places in Bali is by hiring a private car + driver for the day. You can hire one for $70 (
here
) and it includes a pickup at your hotel.
Note: As Bali struggles with the impact of overtourism, I try to encourage travelers to seek beyond Bali. Indonesia has so much more to offer. How about traveling to rugged and undeveloped Sumba? I also just came back from Flores and enjoyed it so much I'm planning to go back.