One of the things we learned during our month-long stay in Bulgaria was that Bulgaria makes wine. Really good wine. I only learned about this because I wanted to visit Rozhen Monastery and I happened to read that the surrounding region of Melnik is one of Bulgaria's famous wine country..
Did you know this that in its pre-communist days, Bulgaria was one of the largest wine producers in the world? I certainly didn't.
Do you want to learn more about Melnik, Bulgaria – a laid-back wine country that produces very unique wine? Read on.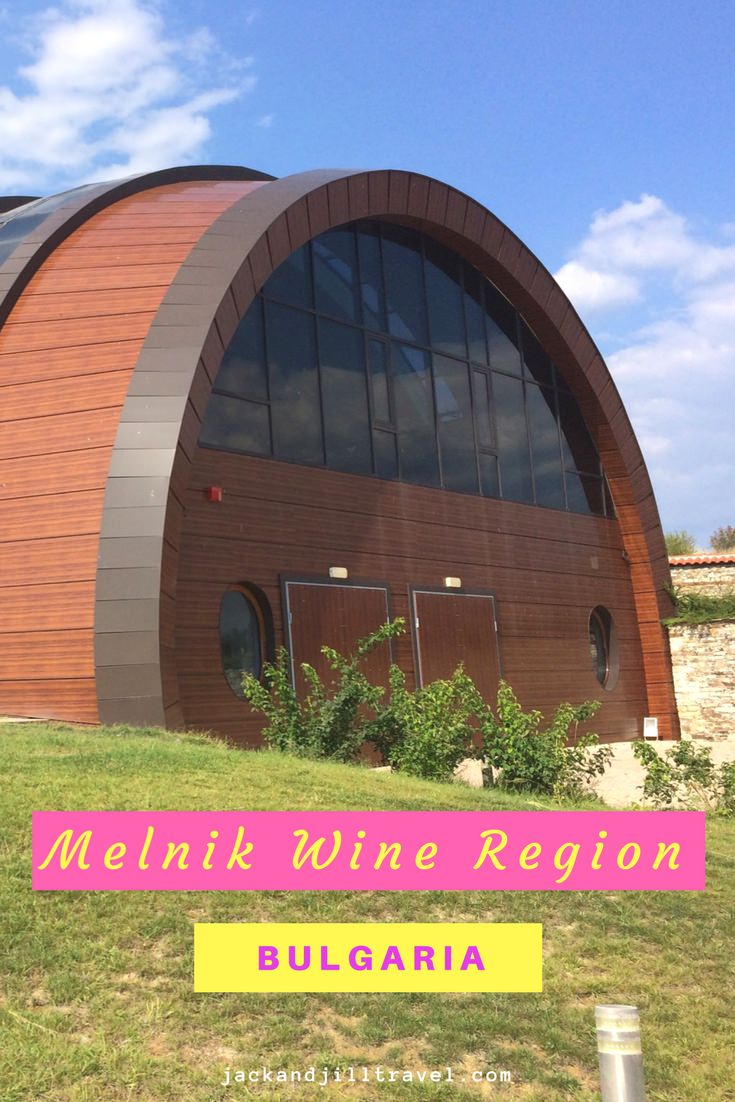 Wine making during Bulgaria's communist years
Unfortunately during the communist years, the production shifted to quantity over quality and Bulgarian wine was lost to the world. Thankfully, a revival movement is underway. New wineries and vineyards are opening all over the country, including in Melnik region. Melnik close enough to Sofia as to make a perfect daytrip from the capital. If you're a wine lover looking for a daytrip idea out of Sofia, I highly recommend checking out Melnik. Bonus: you can visit Rozhen Monastery along the way as well as Melnik's sand pyramids!
A Roadtrip to the wine country
So our roadtrip to Melnik starts to sound better and better now because what's better than a roadtrip? A wine tasting roadtrip!
With thousands of years of wine making tradition behind it and a favorable climate, I have no doubt Bulgarian wine will become more and more known. Especially after we had a chance to taste some of Bulgarian wine. We were pleasantly surprised and how delicious (and cheap) the wines are!
Before we left with our rental car from Bansko, I made a list of all Melnik wineries I'd like to visit based on our local contact's recommendation and Internet search. As usual, I was a little too optimistic. Out of the 5 wineries in Melnik I hoped to visit, we only had time for 2.
Wineries in Melnik
Villa Melnik
Website: Villa Melnik
The young lady who greeted us gave us a short tour of the winery, the underground cellar, as well as a brief history of Bulgarian wine making before ushering us into their tasting room.
They kept pouring us wine. I think we tasted 6-7 different wines? I lost track. We tasted a lot of wine! Since we were the only ones there, the 2 sommeliers grouped around our table. We chatted about wine, Bulgaria, and anything in between.
It was one of the most laidback wine tasting experience I've ever had.
They told us about 'Broad Leave Melnik', a local variety of grapes that only grows in the region. They let us taste a bottle of 100% Melnik, and it was really quite unique. It's said to be Winston Churchill's favorite wine.
One of the wines we ended up getting was a bottle of orange wine. Orange wine is white wine that's produced in the style of red wine, i.e., it spends some time fermenting along with its skin. The result is an orange tinge to the liquid and a tannin feel – not unlike red.
I bought it out of curiosity since I'd never heard of orange wine before and it ended up being one of my favorites. It was different and I like different!
Orbelus
Website: Orbelus Winery
We then headed over to Orbelus, 10 minutes away. The winery is located in a building shaped like a half-buried wine barrel. When we first arrived, we weren't sure if it was even open. The lot was empty and all the doors were closed.
I thought it was closed but as we were leaving, a guy walked out of a utility door and waved us over. "You guys wanted to taste wine?"
D'oh.
"No problem!", he motioned us to follow him.
He, too, gave us a tour of the winery before finally taking us to the tasting room.
Which was gorgeous!
We only tasted 2 different wine here. My favorite was the red (Orbelus Mitra 2015). At 6 euros a bottle, it was a steal!
My best effort to describe it is, "it makes my mouth feel weird." I wasn't surprised to learn that it contained "Broad Leave Melnik". It has a similar back-of-the-mouth puckery, sting-y effect as the 100% Melnik I tasted earlier in Villa Melnik, but more pleasant as a blend.
The caretaker ended up chatting with us about Melnik's and Bulgaria's history. He told us that Melnik was once a much larger town than its current 400-strong size and was home to a sizeable Greek population. The Greeks was forced to leave during the second Balkan war. They burned everything they couldn't carry with them, including some Bulgarian-owned shops and houses. In terms of population, Melnik has never recovered ever since then.
As we chatted, he poured us a second generous glass of the delicious Melnik blend and the next thing we knew, it was 6 pm! "We had to go!", I said to Jack. We still haven't been to Rozhen Monastery yet, which was in a way, our main reason to be here.
Rozhen Monastery and Melnik
So continued on we went to Rozhen Monastery, a quiet, serene monastery with a view of sand pyramids.
We ended the day with a dinner in the town of Melnik itself. Melnik is a town of 400 inhabitants and is said to be Bulgaria's smallest town. There are plenty of taverns selling Bulgarian traditional food.
And there's of course, plenty of wine.
The wine tasting experience in Melnik is still rough around the edges, especially compared to the smooth machinery of Napa and Sonoma wineries. But it has none of the pretentiousness, just a lot of good wine and passionate people.
If we had more time…
We didn't have enough time to do everything we wanted to do in Melnik. We didn't visit Kordopulova House, a wine merchant's house turned into a museum, or 3 other Melnik wineries on my list. But let's not be greedy. With a trunk-full of wine and bellies full of bean soup, and a wide open road ahead of us, I'd consider it a day well spent.
Other wineries in Melnik to visit:
Zlaten Rozhen Winery
Sintica Winery in Sandanski
Tip: If you're short on time, Wine Gallery in the town of Melnik carries wines from all over Bulgaria.
If you like wine and have never tasted Bulgarian wine, I highly recommend visiting Melnik wine country. You might be surprised. Just like we were.
I've also written quite a bit about wine making in Armenia, and Georgia where traditional wine making (using underground amphoras or claypots) is still alive and well.
Melnik Information
Solo traveller?
Taking
this full day tour
from Sofia might make more sense. It'll save you the hassle of renting a car and the drive. For a couple, renting a car might make more economical sense.
How to get here: There isn't a direct bus from Bansko to Melnik. You have to change in Blagoevgrad. It's much better to rent a car. The drive to Melnik takes about 2 hours. There are stores selling wines from around Melnik and Bulgaria in town. Many of them offer free tasting which would be a great way to taste local wines without driving all around the different vineyards. We recommend Wine Gallery.
You can also easily visit Melnik on a day trip from Sofia with a rental car.
RELATED: More on Melnik.