Spain Food Sherpas was one of the highlights of our time in Granada. Our Granada food tour sherpa took us to one of the oldest shops in Spain, a sampling of award-winning tapas, a sampling of a variety of Spain's Iberan ham, and lunch at a local restaurant that looked as if it hadn't changed since the early 1970s.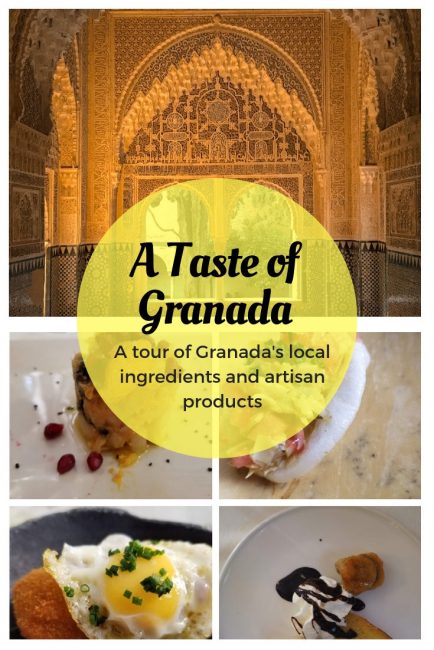 Why Take A Food Tour?
Whenever I travel to a place known for its food, I get so excited. The thing is, I can spend a lot of time researching local culinary specialties but still end up disappointed. Yelp and Tripadvisors are written by tourists, and besides, whenever I read something like "This is the best pizza I've ever eaten. Go here." I can't help but wanting to see this person's pizza resume – Where else has he eaten pizza before? Was it really a good pizza or did he just happen to be hungry?
Thankfully nowadays it's easy to recruit a local food enthusiast to help navigate a city's gastronomic scene. Taking a food tour is often the first thing I do when I arrive at a new city. I've even taken food tours in my own city and I always learn something new.
On a food tour we get to sample a wide variety of treats including food that we wouldn't have tried on our own.
In addition, food tours often involve walking all around a city. It's an excellent way to get your bearing in a new city. I often take notes of landmarks to return to afterwards.
You get access to a local guide who is knowledgeable about things beyond food. We often got tips about things to do, places to avoid (e.g. overrated restaurants), and other going-ons.
As someone with a dietary restriction, taking a food tour allows me to collect proper vocabularies to use afterwards on my travel (e.g. names of regional dishes that happen to be meat-free, including local spelling).
Here are the highlights of our Granada food tour with Spain Food Sherpas:
ANDALUCÍA DELICATESSEN
The small but tidy store is stocked full of curated local delicacies such as olive oil, single-origin chocolate, cheese, and wine. We got to taste various olive oil and local cheeses. It's a perfect store to put together a picnic meal or to make the ultimate charcuterie and cheese board.
OLIVER
Oliver is one of the oldest shops in Spain, having been in business since 1850. It currently sells high-end dried fruits, nuts, and wine. I love this little store that still retains its old-time feel with its dark wood interior and old-fashioned counter. They let you try pretty much anything here and I ate more candied fruits than I probably should've.
LA MILAGROSA IRREVERENTE
This contemporary restaurant offers excellent dishes made with local Granada products. At La Milagrosa, we tried this delicious oxtail croquette topped by fried quail egg, created by Award winning chef Nicolas Marquez. Followed by the vegetarian version of the award-winning tapa itself: a marinated artichoke-tomato filling, wrapped in a crunchy shell.
CHIKITO
In early 1900s this restaurant was a gathering place for artists – writers and poets such as Federico Garcia Lorca – before being taken over by a professional soccer player called Chikito. Chikito was a large, bustling, old-fashioned restaurant and a great place to sample local recipes that can be hard to find anywhere else in Granada.
Here our Granada food tour started out with Remojón Granadino. Pieces of cod, served with chunks of oranges, onion, and pomegranate served chilled. It was quite an interesting combination of ingredients, not sure how I felt about it. Then came the asparagus soup, supposedly Lorca's favorite dish – this was delicious. The dessert was my favorite. It's called Piononos and was created in honor of a visiting pope – the biscuit and the cream is supposed to resemble the pope's hat. Unfortunately, I didn't quite capture it here.
HAM TASTING
Out front Ivan was expertly carving a leg of ham – secured by a contraption out of a Saw movie franchise – into paper-thin slices. On that warm, fall day the fat on the ham formed a shiny coat, rendering the deep-red meat looking almost plastic.
Here we got to taste 3 different hams, two from Granada and another one from another region in Andalusia.
Jack and I eat vegetarian at home, but we both felt that we had to try the famous black-labeled jamón ibérico de bellota. This highly priced ham can cost up to $1000/leg. Jamon iberico is also known as pata negra, the term refers to the black hoofs of black Iberian pigs. However not all jamon iberico is given a black-label.
The black label signifies that the ham comes from free range, purebred black Iberian pigs that have been fed acorn. Jack thought it was delicious. I felt it was too "porky" (which I guess is a good thing if you like meat).
—

We only had one day in Granada and our Granada food tour with Spain Food Sherpas was an excellent way to start our day. We finished the 3 hour tour armed with knowledge of food in Spain in general, and Granada in particular.
Including where to get the best paella (apparently Valencia), the best free tapas (not all tapas are created equal), the difference between tapas and raciones (tapas come free with drinks, the latter is something you order to share with the table), and basically all the things we needed to know to enjoy all the delicious things Granada has to offer.
Granada
Where to Stay in Granada:
We stayed in Bellavista Apartment ($63/double room). Located in Albayzin district, it has a gorgeous view of Alhambra from the balcony.